1993-2008
PRODUCT HISTORY
The concept of MID-LIFT® geometry began back in 1972 for the BOSS 429 Hemi, an engine which had arguably the most complex valve train of any American made engine in history. After months of changing push-rod lengths and elevating stands to experiment with pivot locations on the original steel NASCAR rockers he was routinely winding up to 8,800 rpm, he established the values of perpendicular tangent points and quantified the significant losses in ratio and duration when these weren't maintained. By 1973, these concepts were applied to his first design of aluminum rockers that would use the original NASCAR shafts and modified stands. These later became known as the Series I. These were the first to be finalized into the principles of precision geometry for a roller tip rocker arm Jim Miller would aptly dub: "MID-LIFT."

This is the standard Miller Engineering Inc was founded upon at its inception, in July of 1993. While other companies have continued to change, modify, rethink, redesign and copy improvements for their rocker arms over and over, Jim's Patent winning concepts have never wavered. In addition to establishing "the standard" by which rocker arm geometry is defined, other critical standards were developed which revolve around it; such as valve tip heights for head preparation, necessary for accurate rocker arm designs; and geometry tools that work - unlike the fixed height "stand checkers" and "plastic pushrod checkers" sold for many years. These are useless because they don't allow for NET valve lift; only a closed valve perspective, as if the valve will never open.
Other innovations include such standards as the "1 turn out" adjusting screw setting; the "twin beam" ball mill relief, the "drip down oil hole," dual position oil feeds to and from needle bearings; "needle THRUST bearings" (not just washers); "I-Beam" and "Y-Beam" cross sectional rocker beams with reinforced tail support webs straight up from the rocker's bottom bearing bore and around the pushrod cup (or adjusting screw), where loads distort and stretch bearing bore. And of course, other Patent Pending features thought of and used by no other manufacturer that use the rocker arm's body as its own geometry tool, with precision machined facets that synchronize to either the mounting stand, the valve, the valve spring retainer, the rocker's stud or other fixed points which allow the engine builder to follow easy but precise methods for accurately installing the rocker arm; providing maximum transfer of cam information with the very least amount of wasted in-and-out motion by the push-rod and roller tip.
As with the Ford NASCAR system (above), the SB-2 design was made from the same precise "stretch" the rocker body's overall length to match exactly what was required between the valve centerline and where the pushrod's alignment point with the tappet had to be. This produced a very specific length for the rocker body, that NEVER CHANGED, regardless of ratio. We simply MOVE the SHAFT around to adjust ratio to any desired value. This meant the STAND needed to be specific for each ratio since the shaft was in a different position with regard to the stand mounting bolts with the head. NO OTHER COMPANY EVER designed their rockers to this concept, and NONE do to this day. Other companies, regardless of "name or fame" all use a fixed silhouette rocker "extrusion" with the grain running in the wrong direction to the loads, and a fixed length from the shaft to the roller pin, and RATIO is adjusted by moving the adjusting screw (pushrod) all over the place, on a hit and miss value. The result is that the pushrod is not in alignment with the tappet.

The above SB-2 systems were testing by all of the top names of NASCAR, and produced more power than anything they'd been using. The technology was adapted to their in-house rockers, as it continues today.

PRO-STAND™ presented a new definition of value on the ever escaping control of rising prices to what has been promoted by the more advertised "name brand" rocker manufacturers as: "professional." In 2003, MEI initiated the PRO-STAND series, machined with the same, proprietary manufacturing technology used with the PRO-SHAFT series, but for a much lower cost. Now, a fully machined billet alloy rocker arm for a cost effective STAND MOUNT (aka "shaft") rocker system, that was comparable in price to the highly advertised "sportsman" rockers, but offering strength, precision and materials better than their professional systems costing upwards of $2,000 - by the time you added on all their options - which are "standard" with MEI designs!

The PRO-STUD™ fully machined from solid billet 7150-T7, a 95,000 psi tensile proprietary Alcoa alloy, used since 1995 by MEI for all its stud and shaft rockers (except PVS, which are 7075), sets a standard that no prior (or since) stud mount rocker arm can compete. Besides being of precise MID-LIFT geometry for both intake and exhaust, which often vary on compound geometry engines such as the 351C Ford, 429 Ford and 454 Chevrolet, every facet of the rocker body's profile is a reference plane to the valve, stud and even the pushrod angle in confirming accurate installation. Technical details also included the ultimate lightest moment of inertia, lightest overall weigh, and large 7/8" rifle-drilled 8620 steel trunnions of unsurpassed strength, that also employ dual-flat machining to remove the inherent stress riser creating sheer edge left by manufacturing of "lesser" trunnions that are merely cross drilled through from one side. What's the downside? COST, as usual. 2011 prices for these rockers now tip $1,200/set. But if rules require "stud" mount rockers, and your effort is already expensive in a serious class of championship competition, this is the ultimate stud mounted rocker arm money can buy.
| | |
| --- | --- |
| | |
| | |
PA-Series™ was completely designed, developed, assembled and shipping from the MEI facilities even though they were the product of a separate company, Precision Valve Systems, co-founded by Jim Miller and Antique and Classic car collector, George Shelley. Specifically aimed at the larger Warehouse Distribution market, while offering the same novel design features only found in Miller products. Rifle drilled trunnions, "Measuring Face™" top angle for precision installed geometry; 7075-T6 Aircraft grade aluminum and of course precise MID-LIFT Design Geometry™ matching pushrod to valve specs for each engine. They were designed for the most popular engines, the SB Ford and Chevy, and the BB Chevy which was often used on the BB Ford (429-460).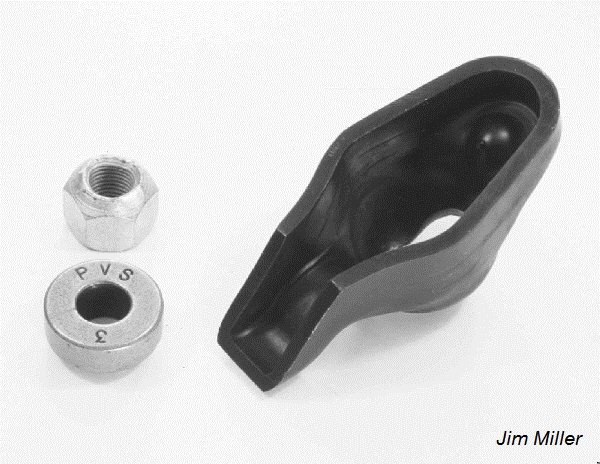 The OE-Series™ is another totally MEI product that was developed for PVS. This is probably the most innovative, most popular and highly sought after "stock type" rocker ever made for the SB Chevy and Ford engines. Why? First of all, it is the only shoe tip rocker ever made of die stamped 4130 chromemoly steel. The cost in wear and tear to tooling has always prohibited more mainstream companies from using this material, opting for the standard 1018 series of "Mild" steel, then attempting to put a band-aid on it with various heat treat tricks that work only for a few minutes under racing applications. Secondly, this is no typical "shoe tip" design. It has Patent pending geometry features never before used for a shoe tip rocker arm, that simply means the rocker arm acts like a roller tip design, and delivers maximum "area-under-the-curve" (100% cam information to the valve). Traditional scuff pad designs have inherently lost a large percentage of the cam information as the rocker moves through its arc, due to the shoe tip's design and placement for its angle on the valve. Thirdly, this rocker has the same precision, Patent pending innovation atop the rocker that was used on the PA Series, and every rocker body Jim Miller has ever built. A specific angle that provides precision installation for the valve lift being used to be sure the operational efficiency with the cam is guaranteed. Fourth, the BALL FULCRUM, which costs as much to make as the rocker body, is made of an advanced gun barrel, oil impregnated powder metallurgy of intense strength, reduced friction and maximum longevity, which uses a dedicated radius specific solely to that of the PVS OE and PF Series (roller tip version) rockers. Lastly, all of this together, has allowed class competition vehicles around the world to use spring pressures nearing that of roller cam needs, and survive countless endurance laps through multiple seasons. Some of our customers have continued to use their OE Series rockers for many years on Sprint, Circle Track, and other forms of maximum effort classes where the rules limit the rockers to "stock type" -- but allow nearly anything else. 40,000 units were made before the tooling was destroyed.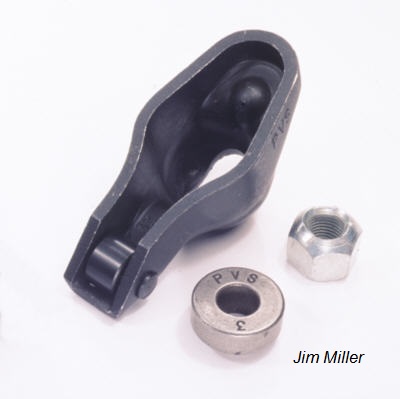 The PF-Series™, shares all the design features of the OE Series (above), except that it is a roller tip design. These were made in FOUR models, two for the SB Chevrolet in 1.5 and 1.6 ratios; and two for the SB Ford, in 1.6 and 1.7 ratios, respectively. Although many sets were sold, the $89 to $120 price competed against cheap aluminum rockers that diminished their market. Early versions also had a roller pin problems from the stamping house, not helping their value. An otherwise superb product, they were discontinued when the dies wore out.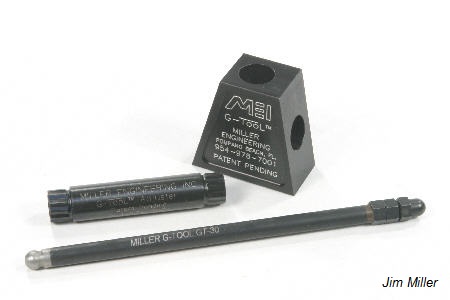 The innovative Patent Pending G-TooL™ not only sets geometry, but teaches the value of precision valve train action for setting the ever critical rocker arm pivot points; a mandatory principle to avoid wasting 3, 5 or even 10 degrees and more of cam information during the entire lift cycle through an over-arcing rocker arm. No other cam company or rocker arm manufacturer in more than 40 years - regardless of name or fame - has ever defined, explained or implemented so many fundamental advancements to establish the standards of rocker arm geometry by which all valve train development is measured. Period.
The Patented Miller STUD-BRIDGE™ is another leap beyond the concepts of prior "stud girdle" attempts to constrain the stud mounted rocker system from flex when high RPMs and spring rates required it on applications that could not run a stand mounted (shaft) system. Other systems have merely used two bars, sandwiched to "clamp together" over extended adjusters, using only three or maybe five simple 5/16" bolts.

By comparison, the STUD-BRIDGE™ uses massive 1/2" 8620 alloy bolts that "overlap" EACH rocker's 8620 alloy MEI adjusters with an "eclipsed" cutaway that "grips" each adjuster with TENSILE (pulling) power up to 85 ft/lbs of torque. Locking this system up in a way that is actually more solid than even a shaft system, simply because of LEVERAGE. A system that constrains flex by holding it intact from a higher point of leverage, is far more effective.

MILLER MID-LIFT™
The Standard By Which All Is Measured!™

954-978-2171

MID-LIFT™ & PRO-SHAFT™ are Trademarks of JM Miller; Copyright © MMIII~MMXVIII JM Miller